Young Researchers of Serbia marked the International day of Biodiversity by awarding "Volunteers are Nature's Peers" Recognition
22. May 2023.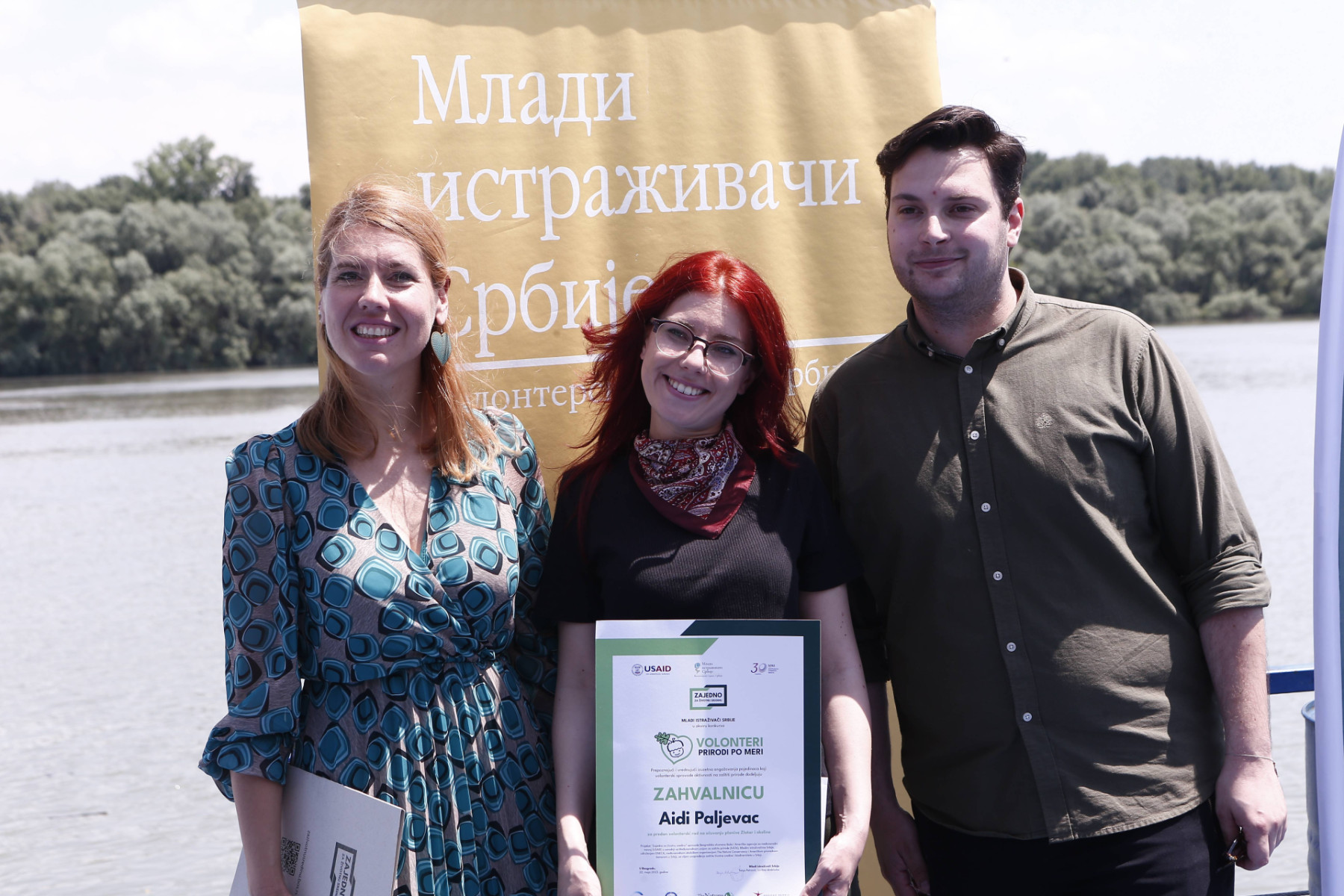 On Monday, May 22, 2023, the Young Researchers of Serbia (YRS) marked the International Day of Biodiversity by awarding "Volunteers are Nature's Peers" recognition to Aida Paljevac, volunteer and activist from Nova Varos, to honor exceptional volunteer engagement in the field of nature protection within the project "Together for the Environment".
The awarding ceremony was held in the vicinity of the Great War Island, the protected area at the heart of Belgrade, attended by the donor, project partners, volunteers, representatives of informal groups and civil society, whose mandate and vocation is nature protection.
Aida Paljevac, the laureate of this year's recognition is notorious for her dedicated volunteer commitment to the preservation of Zlatar mountain and its surroundings. Aida's volunteer work and activism through the informal group of citizens "Studenac", of which Aida is one of the founders, are an inspiration to many enthusiasts who advocate to protect and preserve not only Zlatar, but the entire nature of the Nova Varos Municipality.
"This recognition is important to us because it recognizes the struggle of our local group to preserve the environment and improve the quality of life within our community," said Aida, adding that the award is an incentive to continue with activities that contribute to creating opportunities for equal rights to healthy environment for all."
The "Volunteers are Nature's Peers" is just one of the ways that Young Researchers of Serbia within the "Together for the Environment" project, create more favorable conditions for volunteering and enable improved nature protection in the country.
"This award aims to promote the importance of involving volunteers in nature protection activities, to encourage the initiatives of individuals and organized groups, as well as to show the value of volunteer work. We strive to stimulate citizens to get involved in the preservation of biodiversity and decision-making processes, as well as to cooperate with the managers of protected areas because we want to increase the community of those with whom we share the vision and passion for nature conservation," said Tanja Petrovic, Executive Director of the Young Researchers of Serbia.